VIII. međunarodni kolokvij o problemima rimskog provincijalnog umjetničkog stvaralaštva
VIII. Internationales Colloquium über Probleme des provinzialrömischen Kunstschaffens
8th International Colloquium on Problems of Roman Provincial Art
VIIIème Colloque international sur les problèmes de l'art provincial romain
Zagreb, 5. – 8. 05. 2003.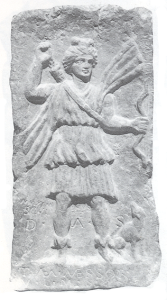 Organizatori – Organisatoren – Organizers – Organisateurs:
Prof. dr. sc. Mirjana Sanader
Odsjek za arheologiju Filozofskog fakulteta u Zagrebu
Ivana Lučića 3
HR-10000 ZAGREB
Ante Rendić Miočević
Arheološki muzej u Zagrebu
Trg Nikole Šubića Zrinskog 19
HR-10000 ZAGREB
Međunarodna radna grupa – Internationalen Arbeitsgruppe – International Working Group:
Dr. G. Bauchhenss, Ass. Prof. Dr. M. Hainzmann, Dr. I. Lazar, Prof. Dr. P. Noelke, Dr. S. Palagyi, Dr. T. Panhuyssen, Prof. Dr. E. Pochmarski, A. Rendić-Miočević, prof., Prof. Dr. M. Sanader, Dr. P. Zsidi
Organizacijski odbor – Organisationskomitee – Organisation Commitee – Comité d'organisation:
Akademik N. Cambi, M. Jurić, prof., Prof. Dr. E. Marin, Prof. Dr. M. Milićević–Bradač, A. Rendić–Miočević, prof., Prof. Dr. M. Sanader, Prof. Dr. M. Zaninović
Radna grupa – Arbeitsgruppe – Working Group – Équipe:
M. Šegvić, prof., Mag. S. Mihelić, mr. sc. I. Radman – Livaja, D. Tončinić, prof.

PROGRAM i SAŽECI – PROGRAMM und ZUSAMMENFASSUNGEN – PROGRAM and ABSTRACTS – PROGRAMME et RÉSUMÉS

VIII. međunarodni kolokvij o problemima rimskog provincijalnog umjetničkog stvaralaštva održan je u Muzeju MIMARA od 5. do 8. svibnja 2003. godine. Organizacija ovog skupa ostvarena je u suradnji Odsjeka za arheologiju Filozofskog fakulteta Sveučilišta u Zagrebu i Arheološkog muzeja u Zagrebu. Na skupu je održano ukupno 55 referata koje potpisuje 60 autora iz Sjedinjenih Američkih Država, Velike Britanije, Francuske, Njemačke, Švicarske, Italije, Austrije, Slovačke, Poljske, Madžarske, Slovenije i Hrvatske.
Glavna tema kolokvija bila je "Religija i mit kao poticaj rimskoj provincijalnoj plastici". Unutar nje bili su predviđeni naglasci na prikazima božanstava, skulpturalnim ukrasima žrtvenika, sakralnih građevina i grobnih spomenika, a uz to je bila predviđena i mogućnost predstavljanja novih nalaza. U okviru toga prijavljena predavanja dotaknula su probleme rimske provincijalne umjetnosti na području Carstva od Britanije do Sirije. Podjednako širok je bio i spektar tema.
Posebnu zahvalnost organizatori skupa duguju kolegama i institucijama koji su na različite načine pomogli njegovoj organizaciji. Upravo je njihova nesebična podrška doprinijela izvanrednom uspjehu skupa. Zahvaljujemo: Muzeju MIMARA u kojem je održan radni dio skupa. Nadalje, Hrvatskoj turističkoj zajednici, Turističkoj zajednica Grada Zagreba, Gradu Zagrebu i Gradu Sisku koji su podržali skup. Posebnu zahvalnost duguju kolegama i institucijama koje su na ovaj ili onaj način ugostile skup – Muzeju grada Siska, Konzervatorski odjel u Zagrebu, Zavičajnom muzeju Varaždinskih Toplica, Arheološkom muzeju Split, Arheološkom muzeju Zadar, Muzeju grada Nina.
M. Sanader, A. Rendić-Miočević (ur.),
Akti VIII. međunarodnog kolokvija o problemima rimskog provincijalnog umjetničkog stvaralaštva
Akten des VIII. Internationalen Kolloquiums ueber Probleme des provinzialrömischen Kunstschaffens
The Proceedings oft he 8th International Colloquium on Problems of Roman Provincial Art
Les Actes du VIIIeme Colloque international sur les problemes de l'art provincial romain,
Zagreb 2005.
Religija i mit kao poticaj rimskoj provincijalnoj plastici
Religion und Mythos als Anregung für die provinzialrömische Plastik
Religion and myth as an impetus for the Roman provincial sculpture
La religion et le mythe comme inspiration pour la sculpture romaine provinciale
NENAD CAMBI, FUNERARY MONUMENTS FROM DALMATIA, ISTRIA AND THE CROATIAN PART OF PANONNIA. A COMPARATIVE STUDY
FRANÇOIS BRAEMERLES, STELES FUNERAIRES A PERSONNAGES ORIGINE DES THÈMES, MODÈLES ET DATES À TRAVERS L'EMPIRE ROMAIN
MIRANDA ALDHOUSE-GREEN, FLEXIBLE INTENT: SHIFTING VALUES & DISCREPANT MEANINGS IN ROMANO-BRITISH RELIGIOUS SCULPTURE
MARTIN HENIG, CIVILIAN SCULPTORS AND THE CREATION OF ROMANO-BRITISH CIVILISATION IN SOUTHERN BRITAIN
JEAN-YVES ÉVEILLARD/YVAN MALIGORNE, TYPOLOGIE ET DÉCOR DES MONUMENTS FUNÉRAIRES DE L'ARMORIQUE ROMAINE
JEAN-NOËL CASTORIO, LA TOMBE MONUMENTALE DE NASIUM (GAULE BELGIQUE): RÉFLEXIONS SUR LE SYMBOLISME DES GRANDS MONUMENTS SÉPULCRAUX DU NORD-EST DE LA GAULE

HANNELORE ROSE UND ISABELLE BARDIÈS, IUPPITERGIGANTENSÄULEN IM MUSEUM VON METZ – LA COUR D'OR

STEPHANIE BÖHM, DER SARKOPHAG DER CORNELIA IACAENA. EIN FRÜHER GIRLANDENSARKOPHAG IN ARLES
PATRICIA SCHWARZ, ÜBERLEGUNGEN ZUR FORTUNA VON BERMEL
GERHARD BAUCHHENSS, EINE SCHILDAMAZONOMACHIE AUS NASSENFELS
GABRIELE SEITZ, BAUPLASTIK AUS DEM BEREICH DES PODIUMTEMPELS VON BADENWEILER (D)
TEODORA TOMASEVIC BUCK, AUGUSTA RAURICA, EINE STATUETTENGRUPPE AUS WEISSEM PFEIFENTON

ALICE LANDSKRON, ATTIS, PARTHER UND ANDERE BARBAREN. EIN BEITRAG ZUM VERSTÄNDNIS VON ORIENTALENDARSTELLUNGEN AUF GRABSTEINEN DER NÖRDLICHEN PROVINZEN
ELISABETH WALDE, BEMERKUNGEN ZU DEN FREISTEHENDEN GRABMEDAILLONS IN NORICUM
ERWIN POCHMARSKI UND MARGARETHA POCHMARSKI-NAGELE, DIE DIONYSISCHEN DREIFIGURENRELIEFS VON HARTBERG UND BAD WALTERSDORF (STEIERMARK)
ANNALISA GIOVANNINI, SPUNTI DI RIFLESSIONE SU ALCUNI ASPETTI DEL CULTO DI BELENO E DI ANTINOO
FULVIA CILIBERTO/FULVIA MAINARDIS, MANI ALZATE, MAINS LEVÉES, ERHOBENE HÄNDE. A PROPOSITO DI UN SARCOFAGO DELLA COLLEZIONE DI FRANCESCO DI TOPPO
KRISTINA DŽIN, CULT AND MYTHOLOGICAL REPRESENTATIONS AS DECORATIVE ELEMENTS OF PUBLIC BUILDINGS IN ROMAN POLA
VESNA GIRARDI-JURKIĆ, RELIEFS AND SCULPTURES OF DEITIES AND MYTHOLOGICAL REPRESENTATION AS DETERMINING FACTORS OF THE SPIRITUAL LIFE IN ANTIQUE ISTRIA
ALKA STARAC, STATUE OF A ROMAN GODDESS FROM THE FORUM OF PULA

ROBERT MATIJAŠIĆ, THE ICONOGRAPHY OF INDIGENOUS CULTS IN NORTHERN LIBURNIA
RADOSLAV DODIG, AFTERLIFE IDEAS ON MILITARY MONUMENTS IN NARONA HINTERLAND
KORNELIJA A. GIUNIO, RELIGION AND MYTH ON MONUMENTS FROM ZADAR AND SURROUNDINGS IN THE ARCHAEOLOGICAL MUSEUM IN ZADAR
MIROSLAV GLAVIČIĆ, KULTSKULPTUREN AUS DER ANTIKEN STADT SENIA
JASNA JELIČIĆ-RADONIĆ, RELIEFS OF THE LABOURS OF HERACLES ON A ROMAN "SARCOPHAGUS" IN THE CHURCH OF ST CAIUS IN SOLIN
BRUNA NARDELLI, RELIGIOUS TESTIMONIES FOUND ON ROMAN GEMS FROM DALMATIA KEPT IN THE ARCHAEOLOGICAL MUSEUM IN VENICE
TAJMA RISMONDO, HVCVSOVE – "THIS IS WHERE SACRIFICES WERE OFFERED" – ARCHAEOLOGICAL FINDS IN THE SUBSTRUCTIONS OF DIOCLETIAN'S PALACE IN SPLIT
GORANKA LIPOVAC VRKLJAN, SOME EXAMPLES OF LOCAL PRODUCTION OF MITHRAIC RELIEFS FROM ROMAN DALMATIA
MARINA MILIĆEVIĆ BRADAČ, DIANA AND THE FAWN
ŽELJKO MILETIĆ, TYPOLOGY OF MITHRAIC CULT RELIEFS FROM SOUTH-EASTERN EUROPE

MARIN ZANINOVIĆ, THE ANCIENT CULTUAL UNITY BETWEEN THE CENTRAL ADRIATIC LITTORAL AND THE DELMATIAN HINTERLAND
DOMAGOJ TONČINIĆ, EINE UNVERÖFFENTLICHTE GRABSTELE AUS TILURIUM
KRISZTINA SZIRMAI, FORTUNA-NEMESIS STATUES IN AQUINCUM
KLÁRA KUZMOVÁ, EIN JUPITERTORSO AUS DEM AUXILIARKASTELL IN IŽA (SLOWAKEI)
MOJCA VOMER GOJKOVIČ, RÖMISCHE GÖTTER UND MYTHISCHE GESTALTEN AUS POETOVIO AUF STEINDENKMÄLERN IM LANDESMUSEUM PTUJ
TAMÁS GESZTELYI, JÜNGLINGSGESTALTEN MIT WAFFE AUF PANNONISCHEN GEMMEN
CHRISTINE ERTEL, MACHTSPLITTER – ARCHITEKTURTEILE AUS DER KAISERRESIDENZ SIRMIUM (SREMSKA MITROVICA)
SYLVIA PALÁGYI, EINE NEUE BILDHAUERWERKSTATT IM OBERLAND DES BALATON (PLATTENSEE)?
GABRIELLE KREMER, DIE GIGANTEN VOM PFAFFENBERG, BEI CARNUNTUM
ALFRED SCHÄFER, DURCHBROCHEN GEARBEITETE WEIHRELIEFS AUS DAKIEN
EXHLALE DOBRUNA-SALIHU, CULT SYMBOLS AND IMAGES ON FUNERARY MONUMENTS OF THE ROMAN PERIOD IN THE CENTRAL SECTION OF DARDANIA
MANFRED OPPERMANN, DIE PLASTISCHE AUSSTATTUNG VON HEILIGTÜMERN DES THRAKISCHEN REITERS IM TERRITORIUM VON PHILIPPOPOLIS (PLOVDIV
PIOTR DYCZEK NOVAE – STELES WITH REPRESENTATIONS OF BIRDS
CARLO FRANCO, PAST AND PRESENT: NOTES ON THE IDENTITY OF ROMAN IMPERIAL SMYRNA
ILONA SKUPINSKA-LOVSET, OMNIPOTENS ET OMNIPARENS DEA SYRIA. ASPECTS OF HER ICONOGRAPHY
DONALD BAILEY, ANTAIOS, AN EGYPTIAN GOD IN ROMAN EGYPT: EXTRACTING AN ICONOGRAPHY
EMANUELE M. CIAMPINI, THE PAMPHILI OBELISK: TWO NOTES ON PHARAONIC ELEMENTS IN DOMITIAN IDEOLOGY
ANDREW WILSON, ROMANIZING BAAL: THE ART OF SATURN WORSHIP IN NORTH AFRICA
CLAIRE K. LINDGREN, THE SYNCRETISM OF BELIFES AS EXPRESSED IN ROMAN PROVINCIAL SCULPTURE
ANNETTA ALEXANDRIDIS, ÜBERALL (GÖTTER)GLEICH? – THEOMORPHE BILDNISSE DER FRAUEN DES RÖMISCHEN KAISERHAUSES
JUTTA RONKE, 'DIE TREFFLICHE GRUPPE DER FLUCHT DES ÄNEAS'. EIN TROIANISCHES THEMA IN DER PROVINZ: DIE AENEAS-GRUPPE IN STUTTGART UND VERWANDTE DARSTELLUNGEN. ZU IKONOGRAPHIE UND BEDEUTUNG
MARIA WEISS, DIE BEFRACHTUNG GÄNGIGER GRIECHISCH-RÖMISCHER SYMBOLE MIT NEUEN RELIGIÖSEN INHALTEN AUF DEN RELIEFS DER MITHRASMYSTERIEN
FRIEDERIKE HARL UND KURT SCHALLER, RÖMISCHE STEINDENKMÄLER IN DER WEB-PLATTFORM WWW.UBI-ERAT-LUPA.ORG
CH. HEMMERS, ST. TRAXLER, CH. UHLIR, UND W. WOHLMAYR, 'STEIN – RELIEF- INSCHRIFT'. KONTUREN EINES FORSCHUNGSPROJEKTES