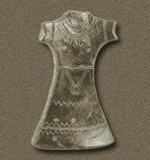 SOCIAL EVENTS
SUNDAY, APRIL 10 2005
20,00 A Welcome cocktail party in "Gradska Kavana", one of the most popular cafes in Zagreb, situated on the main square Trg Bana Jelačića. A buffet dinner will be served.
MONDAY, APRIL 11 2005
20,00 An opening reception (venue to be confirmed)
TUESDAY, APRIL 12 2005
18,00 a City tour with costumed guides followed by dinner (optional). We invite you to experience the past and present of Zagreb accompanied by notable personalities from Zagreb's past – August Šenoa, a novelist, and Marija Jurić Zagorka, a novelist and the first female journalist in Croatia. The tour is followed by dinner in "Stari Puntijar", a traditional restaurant on the outskirts of Zagreb. Typical Croatian cuisine will be served, accompanied by music.

Price of dinner: 18 EUR per person (drinks excluded); City tour is included in the registration fee.
WEDNESDAY, APRIL 13 2005
19,00 Visit to the Archaeological Museum



20,00 Optional dinner in the restaurant "Vinodol" nearby the Archaeological Museum

Price: 17 EUR per person (one drink included)
THURSDAY, APRIL 14 2005
20,00 Farewell party at the family-farm "Kezele", some 40 minutes from Zagreb, with a warm hospitality by the land-lord, followed by a homemade dinner and local wine as well as a performance of traditional Croatian music.

Price: 20 EUR per person (drinks included)


Transportation to the events is included in the price.